Built to make LEIs more accessible
When representing your corporate digital identity it's no longer sufficient to use your 'local' number provided by a country specific Business Register or Chamber of Commerce. Regulators, especially those related to the financial services industry, are now mandating the use of a global number. Enter the Legal Entity Identifier (LEI), established and supported by the GLEIF, as a globally recognised and unique cost effective, strong identity both for international and local trade.
The trouble is, registering LEIs can be complex, time consuming and frustrating. So in 2018, Ubisecure a leading identity management software and cloud services provider and accredited Legal Entity Identifier (LEI) issuer, created RapidLEI. The RapidLEI platform has been designed from the ground-up to help companies register LEIs quickly and easily. Our algorithms do much of the heavy lifting – providing unparalleled automation, improving accuracy and reducing the total cost of ownership for the Legal Entity during the application process. .
A history of innovating with Speed and Automation
The Ubisecure management team have decades of experience building identity services in particular within the Certification Authority (SSL/TLS) industry. This yields a best of breed, flexible, yet accurate and above all "Rapid" approach to the LEI issuance experience. With executive and operational experience at leading Certification Authorities such as GeoTrust, Comodo & GlobalSign the team has applied the "disruptive" automation concepts that resulted in the successful mass adoption of SSL website security by millions of websites around the world.
A global approach to a global initiative
Although the Global LEI System is supported by over 30+ LEI issuers/Local Operating Units, many are just that – local. They are focused on a single market or country/jurisdiction and therefore unable to handle a portfolio of LEIs across multiple jurisdictions – essential to operate in today's global economy. Over 90% of the LEIs issued so far are in countries which RapidLEI supports from the get-go. We maintain a consistent and effective multi-jurisdictional application process and continue to add more jurisdictions all the time.
RapidLEI is an accredited issuer of Legal Entity Identifiers (LEIs) and a custodian of LEI reference data
Established by the Financial Stability Board in June 2014, the Global Legal Entity Identifier Foundation (GLEIF) is tasked to support the implementation and use of the Legal Entity Identifier (LEI). The foundation is backed and overseen by the LEI Regulatory Oversight Committee, representing public authorities from around the globe that have come together to jointly drive forward transparency within the global financial markets. GLEIF is headquartered in Basel, Switzerland.
To access our accreditation certificate, click here
Simon Wood
Ubisecure CEO
As CEO, Simon is responsible for planning, communicating and delivering Ubisecure's overall vision and corporate strategy to enable the true potential of digital business through modern identity management solutions.  Prior to joining Ubisecure, Simon was CTO at GMO GlobalSign, a leading global Certification Authority, where he led the technical and strategic growth of the company.  Simon has also held executive positions QuantumWave Capital where he led the Venture Building practice, Talecom, an enterprise mobile software company, Artilium PLC, the mobile virtual network enabler, and flyingSPARK, a mobile applications company.  Simon graduated with a Bachelor of Engineering in Electronic Engineering from Southampton University. He holds multiple patents in the field of mobile internet software systems design.
Steve Roylance
Ubisecure SVP, Identity Services
Steve is responsible for accelerating Ubisecure's market reach and new identity services development and is a passionate business and process visionary with a proven track record centered around Identity Assurance. In 2005 Steve assembled all major players in the Certification Authority industry and Browser Industry to form the CA/B Forum (www.cabforum.org) eventually resulting in the adoption of more rigorous validation processes as well as uniting the industry in the creation and adoption of common workflow standards for TLS sever certificate provision. Focused on building empowered customer-centric organisations with innovative product workflows & experiences Steve is a veteran of the Identity Assurance industry with several patents adding significant value to the GMO GlobalSign group IP portfolio during his 11 year tenure in the executive business development role (2006-2017).
Andy Sambrook
Ubisecure CFO
As Group CFO, Andy is responsible for all aspects of Ubisecure's financial, administration and corporate control/governance functions.  Prior to joining Ubisecure, Andy was responsible for building GMO GlobalSign's European F&A organisation, including the creation of several business analytics initiatives responsible for monitoring and acting on key HR, finance and performance data.  Andy is a former professional footballer with a footballing career that spanned 17 years, including being an under 18 England schoolboy international.  Since leaving the sporting world behind, he now applies the philosophy of a professional sportsperson, namely perseverance, team work and dealing with lessons learned, to the world of corporate finance where he believes they can be put into so many diverse, real time, challenging situations critical for success in today's rapidly moving business environment.
Paul Tourret
Ubisecure Corporate Development Officer
As Corporate Development Officer for Ubisecure, Paul takes a leadership role in the planning and excution of strategies to meet organisational objectives and is responsible for strategic alliances, identifying and acquiring companies (M&A), securing corporate financing, licensing and other business development opportunities for new Ubisecure solutions and technology.
Paul joins Ubisecure as an executive board member and investor.  Prior to Ubisecure, Paul was a co-founder and executive board member of GMO GlobalSign, a global Certification Authority, where along with Steve Waite, helped grow the company to over 400 people and established leading market positions in several verticals and global territories including the US, Latin America, UK, Europe and Nordics.  Paul has over 20 years experience building cybersecurity companies including GlobalSign, GeoTrust (acquired by Verisign) and Comodo.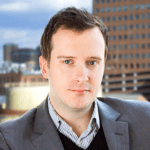 Steve Waite
Ubisecure CMO
As Chief Marketing Officer, Steve is responsible for Ubisecure's corporate marketing and communication, partner and customer communication, demand generation and brand development.
Prior to Ubisecure, Steve was a co-founder and executive board member of GMO GlobalSign, a global Certification Authority, where along with Paul Tourret, helped grow the company to over 400 people, and established leading market positions in several verticals and global territories including the US, Latin America, UK and Nordics.  Steve has over 12 years experience building early stage cybersecurity companies including GlobalSign (now part of GMO group), GeoTrust (acquired by Verisign) and Comodo.